A complete hub at your fingertips.
Campaign management has never been this seamless. Store profiling, allocation management, content creation, asset management, in store ordering, artwork approval, stock management and delivery tracking, all in one interconnected portal.
You'll be astounded at what you can do.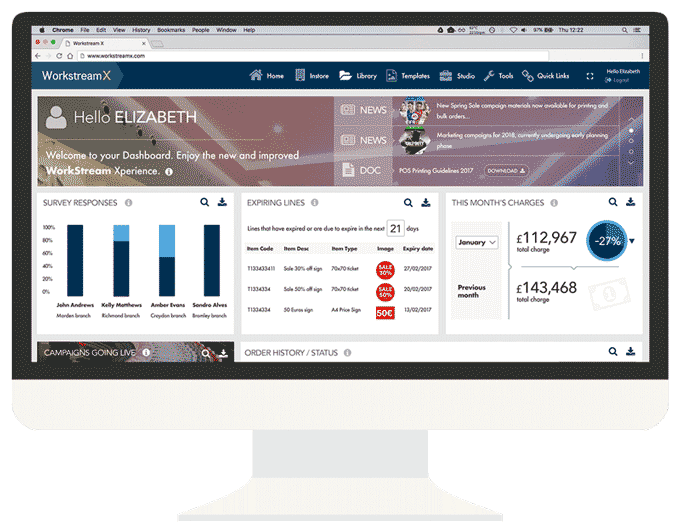 Dashboard.
In one glance you'll see the progress of all of your campaigns, as well as budgeting, expiring lines and news.
Stores can log on to see the real-time status of marketing material deliveries, as well as to receive news from head office.
Auto-content creation.
We've developed advanced tools to dynamically create artwork and digital content online.
You can now mass-generate thousands of artworks in one go with our new upload options. Thanks to integration with Workstream X's in-store printing system, artwork can be created, distributed and placed in store in a matter of minutes - giving our clients unrivalled responsiveness to environmental change.
In-store ordering.
Workstream X gives head office advanced control of its estate, and gives stores access to more of the features that matter to them. Manage store budgets, approve orders, and choose exactly what is available for each store to order.
Stores now have access to a comprehensive online catalogue of POS and other items, optimised for instant searchability.
Digital asset management.
All your digital assets, in one secure place. Workstream X's new DAM system allows you to tag your assets for easy filing, searching and archiving. We've added version control so you can be sure that users only ever download latest media.
By allowing access to your suppliers and agencies, you'll be able to use Workstream X as one centralised hub for all of your marketing assets, whether they be artworks, video, or any other type of media.
Used by giants.
Our system is already used by some of the world's largest retailers and brands. We have over 5,500 users across 72 countries.
With Workstream X, we've improved the versatility and scalability of our system, making it even easier for international brands to integrate the system into their large store estates.
Want to find out more?
We'd love to chat about how Workstream X can help your business. Send us a message and our sales team will contact you.